How to Download Videos from Pinterest?
- Open the Pinterest app or
pinterest website
- Navigate to the Pin containing the video you want to download
- Tap the "..." icon on the Pin and select "Copy Link."
- After copying the Pinterest post URL/link paste it to the above form and hit enter.
- Our website will process the video and generate a
pinterest video download
link. Click on the link to begin the download.
- After the download is complete, the pinterest video will be saved to your device's default download location. You can access the downloaded video from your device's file manager or media library.
- You can also download GIF from Pinterest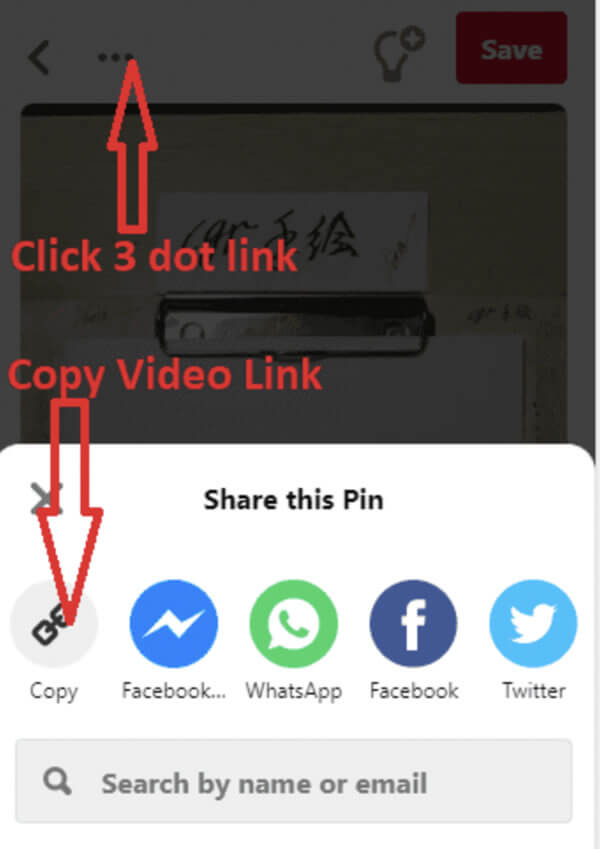 Pinterest to MP4
You can easily download pinterest videos in MP4 format. If the videos are not mp4 formatted, we convert pinterest to MP4 and provide you the download links. Our powerful pinterest to mp4 converter converts pinterest videos to mp4 format in just a few seconds. The quality of the pinterest .mp4 videos are very high so that you can watch those videos without sacrificing quality, making our service one of the best pinterest converter online.
Pinterest HD 1080p videos
You can download HD 1080p pinterest videos which are important because it refers to a display resolution of 1920x1080 pixels for Full HD and 1280x720 for HD videos, these pinterest videos provides a high level of detail and clarity. Also pinterest HD videos makes it suitable for watching videos without tired eyes, and also makes it easier to find details in photos and videos. These formats are the closest ones to 4K pinterest videos.
Pinterest Key Features
Pins: Pins are visual bookmarks or images that users save to their Pinterest boards. These can include images, infographics, recipes, DIY projects, fashion ideas, travel destinations, and much more.
Boards: Boards are collections of related Pins. Users can organize their saved Pins into different boards based on themes or interests, making it easy to find and refer back to specific ideas.
Visual Discovery: Pinterest's visual discovery engine allows users to find new content and ideas based on their interests and the content they have previously saved or engaged with. The platform suggests similar content through its "Explore" section.
Search: Users can search for specific ideas or topics using keywords and hashtags. Pinterest's search feature helps users find relevant Pins and boards related to their interests.
Following: Like other social media platforms, users can follow other users' profiles to see their latest Pins and boards on their home feed.
Repinning and Sharing: Users can repin or share Pins from other users' boards to their own boards, which helps to spread content and ideas across the platform.
Business Accounts: Pinterest also offers business accounts for brands and businesses to showcase their products and services, and engage with potential customers.
What is Pinterest?
Pinterest is a popular social media platform and visual discovery engine that allows users to discover, save, and share ideas, images, and videos on various topics. It was officially launched in March 2010. Pinterest has grown rapidly since its inception and has become a significant player in the social media landscape. Pinterest is particularly popular for lifestyle-related content, including fashion, home decor, cooking, fitness, travel, and more. It has gained a reputation as a source of inspiration and ideas, making it a valuable platform for users seeking creativity and motivation. The platform's unique visual approach and user-friendly interface have contributed to its success, attracting a diverse user base and offering a refreshing alternative to traditional text-based social media platforms. Pinterest continues to evolve and expand its features to cater to the interests and needs of its growing community.
Best Online Pinterest Downloader
With the help of our online pinterest video downloader you can download those videos and photos to your computer without decreasing the quality of the content. We offer videos in HD quality and usually in MP4 format which is very common. The pinterest photos you download comes in the best quality possible (usually HD), and is in JPG, GIF and PNG formats. We also do not limit the size of any pinterest video or photo meaning you can download any pinterest content in any size. Moreover, our video downloader can be used as a pinterest converter to convert pinterest videos to mp4.
Where to Save Pinterest Videos and Photos?
You can save pinterest videos and photos to your PC, Mac, IOS device such as iphone, ipad etc. Besides it is also possible to save pinterest videos to your android phone or to a portable usb hard disk. Just be sure to select the correct drive when saving pinterest content after you choose "save as". On most IOS devices, it is better to use a portable disk or a third party ios app to save pinterest videos online. It is user's responsibility to respect pinterest copyright owners' rights.
Ways to Find Pinterest Videos to Download
If you know directly the pinterest account you want to download videos from, just navigate to that user's account and select the pinterest video. You can also search pinterest videos and photos with the help of pinterest hashtags like #recipes, #cooking or #archery. Whatsmore, it is possible to use google search to find pinterest videos to download using search phrases like "pinterest cooking".
Rate Pinterest Video Downloader
Frequently Asked Questions