How to Download Videos from Instagram?
- Go to the Instagram's website or application
- Open the Image or Video that you want to download.
- Copy the Instagram Video URL
- Paste it to the above form and hit enter
- Iphone and Ipad users need to use an application like Dropbox to save instagram videos to their device disk.
- You don't need a instagram video downloader app or or instagram download program, just download and enjoy!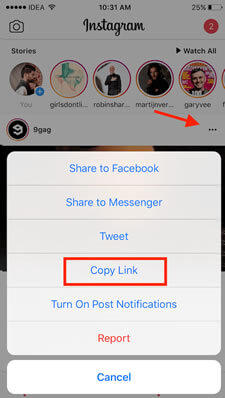 Best Online Instagram Downloader
Downloading instagram photos, instagram videos and stories never been so easy! With our instagram video downloader you can easily download most of the content from instagram. We present nearly all of the insta videos in HD quality and in MP4 format which is the most common format among all others. Photos also have the highest quality possible and usually in JPG format. You will also have the basic info about the instagram account you are downloading content from. We also do not limit the size of any instagram video or photo meaning you can download any instagram content in any size.
Where to Save Instagram Videos and Photos?
You can save instagram videos and photos to your PC, Mac, IOS device such as iphone, ipad etc. Besides it is also possible to save instagram videos to your android phone or to a portable usb hard disk. Just be sure to select the correct drive when saving instagram content after you choose "save as". On most IOS devices, it is better to use a portable disk or a third party ios app to save instagram videos online. It is user's responsibility to respect instagram copyright owners' rights.
Ways to Find Instagram Videos to Download
If you know directly the instagram account you want to download videos from, just navigate to that user's account and select the instagram video. You can also search instagram videos and photos with the help of instagram hashtags like #superbowl, #basketball or #cars. Whatsmore, it is possible to use google search to find instagram videos to download using search phrases like "instagram superbowl".
Rate Instagram Video Downloader
10/10 (1 vote)