How to Download Stories from Instagram?
You want to save an instagram story, good idea, but you must be pretty quick as it only has 24 hours before it disappears. You can take a screenshot inside the instagram app and save it to your photos folder or you can activate screen recording and record your screen as you view the desired instagram story. However, these methods are, most of the time, either inadequate or difficult. We have created this tool to save Instagram stories more easily. Our Story Saver saves you time by providing an Instagram download capability for stories. All you have to do is to copy the link of the instagram story you want to download via
Instagram
and then paste the link you copied into the input box in our instagram story downloader. With our
Insta story download
tool, you can download your stories without password and for free. Remember, the Instagram story you want to download must not be under a private account. Unfortunately, you cannot download stories shared by private accounts.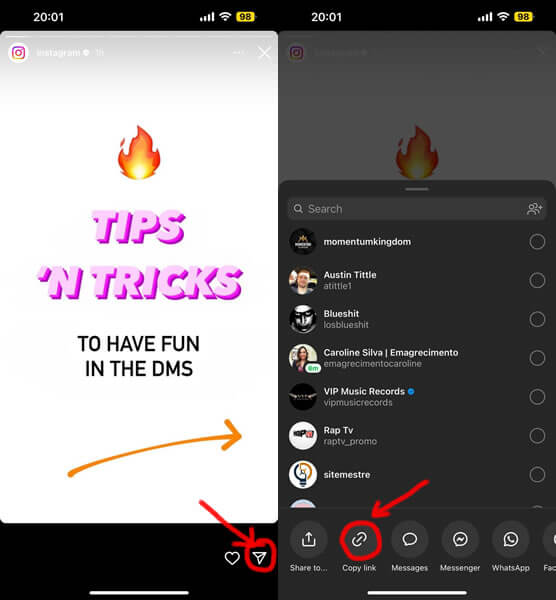 How to Download Instagram Stories on iPhone or Android?
1.
Open the Instagram app on your iphone or android or navigate to instagram.com website and log in to your account.
2.
Tap on the profile picture of the user to view his/her active Stories
3.
Open the story you want to download and tap the paper plane icon located at the bottom left corner below the story and then hit the "Copy Link" option.
4.
Go to Allinonedownloader.com with
Safari app
or
Google Chrome
, paste the copied Instagram story link in the input form and click the download button.
5.
The ig story you want to download will be displayed and you can click Download button next to each story video to save it to your iphone or android.
Instagram Story to MP4
You can easily download instagram stories in MP4 format. If the stories are not mp4 formatted, we convert instagram stories to MP4 and provide you the download links. Our powerful instagram stories to mp4 converter converts instagram story videos to mp4 format in just a few seconds. The quality of the instagram stories .mp4 videos are very high so that you can watch those videos without sacrificing quality, making our service one of the best instagram story converter online.
Instagram Stories HD 1080p Videos
You can download HD 1080p instagram stories which are important because it refers to a display resolution of 1920x1080 pixels for Full HD and 1280x720 for HD reel videos, these instagram stories provides a high level of detail and clarity. Also instagram HD stories makes it suitable for watching videos without tired eyes, and also makes it easier to find details in story videos. These formats are the closest ones to 4K instagram story videos.
Basic Info about our Instagram Story Saver
* There is absolutely no limit in the number of instagram stories you can download. You are free to download any amount of instagram stories without limits.
* Some of the instagram stories are private and some stories are geographically restricted by the owner. We cannot access these stories, thus they cannot be downloaded.
* When you left click on the download link it is normal the browser starts to play instagram story. You need to right click on download link and choose "save as" to save the story.
* We do not store, track or keep info about downloaded instagram stories. All stories directly come from instagram servers.
* Most of the instagram stories we serve are in HD or Full HD format. This means that you can download highest quality instagram stories including 1080p stories and 720p stories.
* Most of the instagram stories are already in mp4 format, we automatically convert and serve insta story to mp4 instantly if they are in different formats. You don't have to manually convert stories to download in mp4
What are Instagram Stories?
Instagram Stories are a feature on the popular social media platform, Instagram. They allow users to share photos, videos, and other content that disappears after 24 hours. Stories are displayed at the top of the Instagram app and appear in a slideshow format. Key features of Instagram Stories include:
Short-lived Content: Stories disappear after 24 hours, providing a sense of urgency and encouraging users to check them frequently. This temporary nature makes Stories ideal for sharing in-the-moment updates, behind-the-scenes glimpses, or less polished content.
Variety of Content: Users can post photos, videos, text, drawings, stickers, GIFs, polls, questions, music, and more in their Stories. The flexibility of content types allows for creative and interactive storytelling.
Interactive Elements: Instagram Stories offer various interactive features, such as polls, quizzes, questions, and countdown timers. These elements engage the audience and encourage them to participate.
Swipe Up Links (for Verified Accounts): Verified accounts and accounts with over 10,000 followers have the option to add links to their Stories, allowing viewers to swipe up and access external webpages.
Filters and Effects: Users can apply filters, effects, and augmented reality (AR) stickers to their Stories, enhancing their visual appeal and allowing for fun and creative customization.
Highlight Reels: While individual Stories disappear after 24 hours, users can save selected Stories to their profile as "Highlights". These Highlights remain visible on the profile and can be organized into different categories.
Audience Control: Users can choose to share Stories with all their followers or create a "Close Friends" list to share exclusive content with a select group of followers.
Instagram Stories have become an integral part of the platform, enabling users, businesses, and influencers to engage with their audience in a more casual and interactive way. They are a popular tool for sharing real-time updates, promoting products, and fostering a sense of community among followers.
Where to Save Downloaded Instagram Stories?
You can save instagram stories on both your computer and mobile in various locations, depending on your preferences and the purpose of saving the story. Here are some common places to save those on your computer and mobile:
On Computer:
By default, most browsers save downloaded files, including instagram stories, in the "Downloads" folder on your computer. Also, you can save instagram stories directly on your desktop for quick access or create specific folders on your computer to organize and save storiess based on categories or projects. You always have the option to use an external hard drive if you have limited space on your computer. You can save instagram stories on an external hard drive for storage and backup. Besides, you can use a cloud storage services like Google Drive, Dropbox, or OneDrive offer an option to upload and store ig stories securely in the cloud.
On Mobile:
Instagram stories captured with your mobile device's camera or downloaded from Allinonedownloader's Story Saver are usually saved in the "Gallery" or "Photos" app. On some Android devices, you may have a file manager app where you can browse and organize files, including these instagram stories. Some user may prefer cloud Storage Apps similar to the computer, you can use cloud storage apps like Google Drive, Dropbox, or iCloud Drive to save and access stories across multiple devices. Remember to organize your saved instagram stories and use appropriate file names or descriptions to make it easier to find them later.
How to Find Instagram Stories to Download?
Stories Bar on the Home Page: When you open the Instagram app, you'll see a row of circular profile pictures at the top of your home page. These are the Stories posted by the accounts you follow. Tap on any profile picture to view their current Story.
Explore Page: The Explore page (the magnifying glass icon) is a great place to discover new content, including Stories. Instagram's algorithm curates content based on your interests, so you're likely to see Stories related to the accounts and topics you engage with on the platform.
Hashtags and Location Tags: Similar to regular posts, users can add hashtags and location tags to their Stories. Searching for specific hashtags or locations can lead you to Stories related to those topics.
Swipe-Up Links: Some accounts, especially verified accounts or accounts with a large following, have the option to add swipe-up links to their Stories. These links can lead you to external websites, articles, or specific content related to the Story.
Explore Stickers: Instagram offers various interactive stickers for Stories, such as polls, questions, quizzes, and countdowns. Exploring Stories with these stickers can be engaging and entertaining.
Story Sharing: If someone you follow shares a Story from another account, you can tap on their profile picture or the shared Story to view the original content creator's Story.
Follow Suggestions: Instagram may suggest new accounts to follow based on your interests and activities. Sometimes, these suggestions appear as Stories from the suggested accounts.
Close Friends Stories: If you're part of someone's Close Friends list, they may share exclusive Stories visible only to that select group.
Rate Instagram Story Downloader