How to Download Reels from Instagram?
Using our instagram reels downloader is pretty simple. All you have to do is copy the link of the reels you want to download and paste it into the input form above. The steps you need to follow to download Instagram Reels video with our tool are as follows;
- First, copy the link of the instagram reel you want to download via
Instagram
- Then paste the link you copied into the input box in our Instagram Reels downloader. Our tool will reach to that specific instagram reel in a very short time and display reel download links.
As you can see, our Download Instagram Reels tool is very simple and easy to use. All you have to do is copy and paste the link. With our
Insta reels download
tool, you can download your reels without password and for free. Remember, the Instagram Reels you want to download must not be under a private account. Unfortunately, you cannot download Reels shared by private accounts.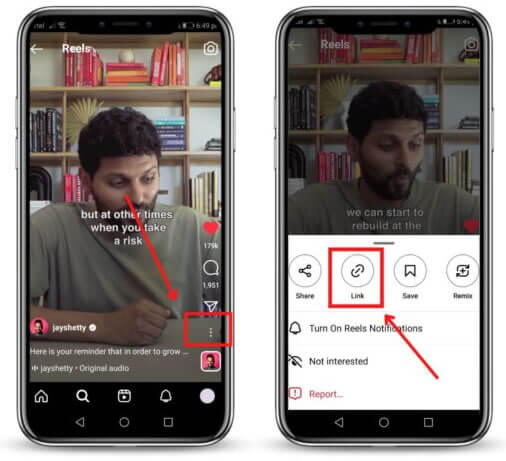 How to Download Instagram Reels on iPhone?
1.
Open the Instagram app on your iphone or navigate to instagram.com website and log in to your account.
2.
Find the reel video you want to download and tap the 3 dots icon (...) below the post and then hit the "Copy Link" option.
3.
Go to Allinonedownloader.com with
Safari app
, paste the copied Instagram reel link in the input form and click the green button.
4.
The ig reel video you want to download will be shown, you can click Download button next to each reel video, to save video to your iphone.
Instagram Reels to MP4
You can easily download instagram reels in MP4 format. If the reels are not mp4 formatted, we convert instagram reels to MP4 and provide you the download links. Our powerful instagram reels to mp4 converter converts instagram reel videos to mp4 format in just a few seconds. The quality of the instagram reels .mp4 videos are very high so that you can watch those videos without sacrificing quality, making our service one of the best instagram reels converter online.
Instagram Reels HD 1080p Videos
You can download HD 1080p instagram reels which are important because it refers to a display resolution of 1920x1080 pixels for Full HD and 1280x720 for HD reel videos, these instagram reels provides a high level of detail and clarity. Also instagram HD reels makes it suitable for watching videos without tired eyes, and also makes it easier to find details in reel videos. These formats are the closest ones to 4K instagram reel videos.
What are Instagram Reels?
Instagram Reels is a feature on the popular social media platform Instagram. It allows users to create and share short, entertaining videos with their followers and the broader Instagram community. Reels are similar to TikTok videos, typically lasting up to 15 seconds and can be set to music or audio clips.
With Instagram Reels, users can use various creative tools such as music, effects, text, and stickers to enhance their videos and make them engaging and fun. The feature is designed to encourage creativity and expression, and it has become a popular way for users, influencers, and brands to showcase their talents, share informative content, or entertain their audience.
Reels appear on a dedicated tab on users' profiles, and they can also be shared on the main feed or in Instagram's Explore section, making it easier for other users to discover and engage with the content. Instagram Reels has become a significant aspect of the platform, attracting millions of users and contributing to the diverse content ecosystem on Instagram.
Where to Save Downloaded Instagram Reels?
Instagram Reels videos downloaded from our tool can be saved in different locations depending on the platform you use. If you are using our ig reels download tool from a desktop computer, your video will be saved in the default "Downloads" folder. However, it is possible to modify this location via your browser. If you changed it, your Instagram Reels videos will be saved in your preferred folder. If you are having trouble finding your instagram video, you can find both your video and the folder it is in by searching the search section on the start bar after downloading it.
If you are downloading from mobile, your Instagram Reels Video will still be saved in your phone's downloads folder. Although it varies depending on the phone model, you can access the downloads folder using the file explorer. Or you can access it under the videos option by entering your gallery without dealing with the folder.
How to Find Instagram Reels to Download?
1. Explore Page: The Explore page on Instagram showcases popular and trending content, including Reels. Instagram's algorithm curates content based on your interests and interactions, so you'll likely find Reels that align with your preferences.
2. Hashtags: Search for popular hashtags related to the type of content you're interested in. Using hashtags like #Reels, #InstagramReels, or specific niche-related hashtags can lead you to popular Reels in those categories.
3. Explore Reels Tab: On the Reels tab, you can find a selection of trending and popular Reels. This tab highlights content that is gaining traction and is widely viewed on the platform.
4. Following: If you follow accounts that regularly post popular Reels, you'll see their content on your feed, and you can engage with it from there.
5. Discover Pages of Influencers: Influencers often post popular Reels. Check out the profiles of popular influencers in your niche or interests to see their latest Reels.
6. Explore Trends and Challenges: Look for popular trends and challenges circulating on Instagram. Many users participate in these trends, and their Reels might be featured on the Explore page.
7. Saved Collections: Some users save popular or inspiring Reels in their collections. By exploring their saved posts, you might come across interesting and popular Reels.
Rate Instagram Reels Downloader
8/10 (1 vote)